Requirements on Submissions
1. Please send the soft copies of drawings and relevant documents to qvillagegangtou@chinabuildingcentre.com.

2. Languages: The official languages of the Competition are Chinese and English (the subjects and main design interpretation must be made in Chinese and English). Bilingual drawings in Chinese and English are required for participants from the Chinese Mainland, and English drawings for international participants.

3. International System of Units (m, mm, etc.) will be adopted.

4. List of submissions:
(1) Panels shall be in A1 size (594mm x 841mm) in horizontal layout. Each team shall submit at least three panels for each entry, and only the first three panels will be taken when more than three panels are provided. It is also required to provide drawings that can fully express the design intent, such as the master plan, renderings, plans, elevations, sections, blowups of ken nodes and analysis drawings, etc., as well as design interpretation of about 500 words (to be included as part of the drawings). Such drawings must fully express the design intent in scale determined by participants. Photos of physical model (if any) can also be provided.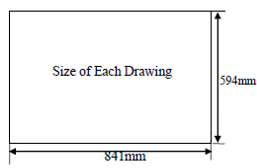 (2) Other supporting materials (including design brochure, video, electronic model, etc.) are provided in soft copies.

5. Other documents required
(1) Participants must attach scanned copies of their ID certificates (ID cards for participants from Chinese Mainland and passports for those from Hong Kong, Macao SARs and Taiwan and other countries) to their emails for submitting design works. Team participants shall provide the scanned copies of ID certificates of all members.
(2) Please download and fill in the "Q-Village · Gangtou" International Young Designer Competition Project Information form as required, and submit it with the final entry. (Please be noted the form is a replaced version of the original TXT/WORD document, so there is no need to submit the TXT/WORD document anymore. )
(3) Participants shall download the Statement of Originality from the official website, and submit the scanned signed copy together with the design works.

6. Requirements on drawing formats
(1) Drawings shall be submitted in JPG format with resolution of no less than 300dpi and the long side of no less than 1,500 pixels. Images shall be named in sequence (Panel 1, Panel 2, Panel 3).
(2) Materials in text shall be saved in TXT/WORD format and included in a folder named after the name of the design work.



Work Rules
1. Participants must abide by the foregoing contents and work rules of the Competition. The final right to construe the Work Rules resides in the Organizers.
2. The soft copies shall not contain any text or image relating to the name of the designer(s), employer(s) or university(ies). Any participant violating the rules will be disqualified from the Competition.
3. Participants own the copyrights of their design works, while the Organizers are entitled to exercise other copyrights other than the authorship.
4. Any design work that has been used in other competitions or contains creative ideas released by other designers to the public are not allowed in the Competition.
5. Participants shall not take any suggestion or guidance from members of the Evaluation Committee, otherwise they will be disqualified from the Competition.



Basic Information about Gangtou Village
A 600-year old traditional village in Huadong Town, Huadu District, Guangzhou, Guangdong Province, Gangtou Village covers a total land area of 2.83 km2. Facing the south, the village features a typical Cantonese dwelling layout that resembles a comb, which is known as "comb-style layout". About 20,000m2 of ancient buildings of the Ming and Qing Dynasties and the Republican Period are well preserved in the village, including private houses, ancestral temples and ancient bridges, making it an "open-air museum of Lingnan architecture".
Organization
Sponsors:Guangzhou Municipal Housing and Urban-Rural Development Bureau, Guangzhou Huadu District People's Government, Guangdong Hengjian Investment Holding Co., Ltd.
Organizers:Guangdong Hengguang Investment Co., Ltd., CBC(China Building Centre)
Co-organizers:CPC Leading Group Office of Rural Revitalization Strategy Implementation of Guangzhou Huadu District Party Committee, Guangzhou Huadu District Huadong Town People's Government
Academic support:International Urban and Rural Innovation  &amp Development Research Center
Media support:Urban Environment Design (UED) Magazine
Contact
Chinese Mainland: +86 (0)10 56077246;
ZHANG Jingxuan +86 18600687329; zhangjingxuan@chinabuildingcentre.com
LONG Yiran +86 18600687323;longyiran@chinabuildingcentre.com
other countries or Hong Kong, Macao SARs and Taiwan:
Amy DONG +86 15389869269; dongjiarong@chinabuildingcentre.com Joy WANG +86 13189714339; wangjiayue@chinabuildingcentre.com
Official email: qvillagegangtou@chinabuildingcentre.com
Official website: http://qvillagegangtou.chinabuildingcentre.com